Care Leavers for Housing Rights campaign
Young people leaving care often face numerous barriers to securing adequate housing, including poor transition planning and restrictive housing law, leaving many at risk of homelessness. This is an acute problem in London, given long waiting lists for social housing, the high cost of renting, and the large proportion of care leavers who are placed 'out of area', often far away from any support network they may have.
One-third of care leavers experience homelessness in the first two years immediately after they leave care – a finding backed up by our casework experience. In the wake of the Covid-19 pandemic, the increased economic strain on young people unable to fall back on parents for support is likely to increase the rate of homelessness amongst care leavers even further.
Young care leavers' views and experiences are frequently missing from policy discussions which directly affect them, but we're changing that.
Funded by Trust for London, the Care Leavers for Housing Rights campaign offers young people aged between 16 and 25 with lived experience of the care system the opportunity to influence positive change and wider reform to help ensure young care leavers have their right to adequate housing realised. Coordinated by the Children's Rights Alliance for England (part of Just for Kids Law) with the support of our Policy and Public Affairs Officer and Youth Engagement and Campaigns Organiser, the young people on the campaign will form the campaign's steering group responsible for the creation and direction of the Care Leavers for Housing Rights campaign.
How to get involved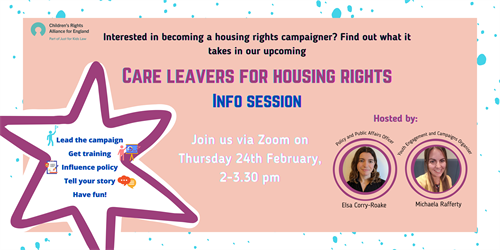 We're now looking for care experienced young people with experience of housing or homelessness issues in London to join our campaign steering group! Young people who get involved in our campaign work will be recognised and regarded as experts by experience and activists campaigning for the right to adequate housing. Support to participate includes travel cost reimbursement, as well as digital connection and refreshments provided during participation. 
Please get in touch with our Youth Engagement and Campaigns Organiser Michaela Rafferty at michaelarafferty@justforkidslaw.org for more information.
Change it! project
From 2016-2020 CRAE supported the Change it! project, a campaign led by children and young people aged nine to 21 who wanted to stop children and their families having to live in unsafe and unsuitable housing like B&Bs for long periods of time. The project's Steering Group produced a report, 'It's like living in prison' Children speak out on homelessness, which documents their experiences of living in this type of accommodation, and the impact on them and their families. They also raised their concerns with MPs, ministers and government officials, and spoke out on the right of every child to have a safe and secure home.
Download the campaign pack.
Watch a short film, made by the Change it! project:
Watch a video of Cameron, one of the Change it! Steering Group members, produced by Comic Relief. 
Read our latest Change it! briefing paper Homelessness and temporary accommodation among families and children