Background
The UN Committee on the Rights of the Child (UN Committee) are examining the UK in 2023 on its obligations under the UN Convention on the Rights of the Child (CRC). The last review of the UK was in 2016. The examination presents a key opportunity for civil society to raise important issues of concern affecting children's rights with the UK Government and the UN Committee and to highlight where action is needed, as well as outline where progress has been made.
CRAE will be leading this process on behalf of civil society in England and warmly invites its members to send in written evidence to inform our submission to the UN Committee.
Civil society alternative report
The next review is being done under the new Simplified Reporting Procedure (SRP) which means it is slightly different to previous examinations. We have already submitted our civil society submission to inform the List of Issues Prior to Reporting (LOIPR) in November 2020. The next stage for civil society is to submit our alternative report. Under the new SRP, civil society has to input two reports. (We are currently at the // in the picture below).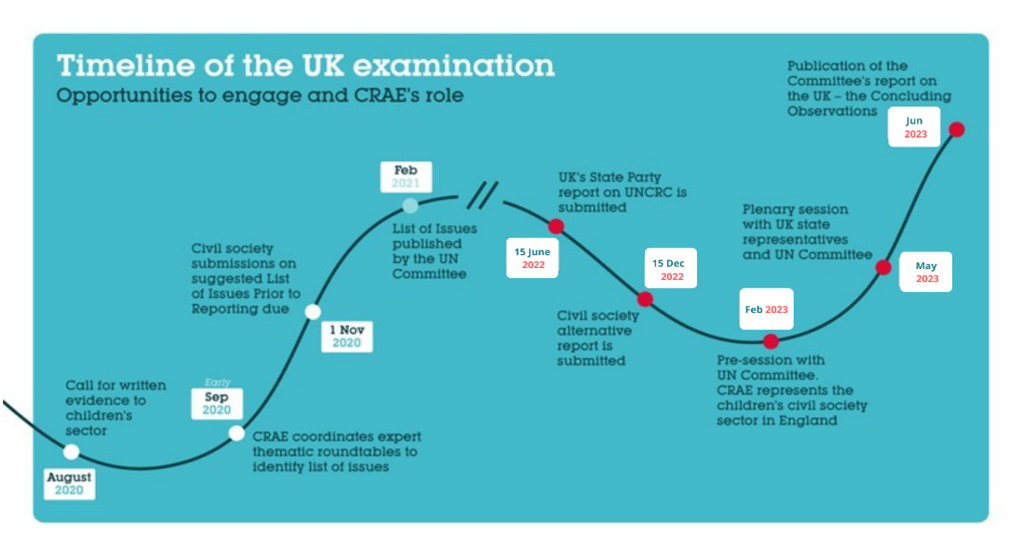 Our civil society submission must be relatively short (20,000 words). In order not to repeat our 2020 submission to inform the LOIPR, we are asking you to please look back at this report and based on your area(s) of work, tell us what needs to be updated, added, and/or removed. For reference, please also see the UK List of Issues Prior to Reporting published by the UN Committee on the Rights of the Child. The UK submitted its response (State Party Report) to the UN Committee's questions in June, you may want to look at this too for any glaring inaccuracies.
Please submit no more than 500 words on each area and make sure to include specific recommendations and examples and references where required. This will ensure we are providing detailed information to the UN Committee on what has changed since our previous submission. Please read the detailed guidelines on submitting written evidence here.
Civil society's role in the 2016 examination was critical in producing a strong set of final recommendations, many of which the UK Government has gone on to implement. This call for written evidence is your opportunity to influence the content of the report.
We are looking for information/500 words in each area:
General Measures of Implementation and General Principles

Poverty and Homelessness

Safeguarding Children including Violence against Children

Immigration, Asylum and Trafficking

Education, Leisure and Cultural Activities

Health (including Mental Health) and Disability

Policing and Criminal Justice
DEADLINE: Cop Monday 5th September 2022. Please send your submissions to elsacorry-roake@Justforkidslaw.org.